We work with Codurance because of their strong reputation in Software Craftsmanship, an approach that is perfectly suited to our context, and because their training courses are proven and highly valued by our developers.

Their ability to understand and adapt to our needs is a significant element of our ongoing collaboration.
Based on our experience in highly regulated environments, the Swiss multinational healthcare company Roche wanted to work with our craftspeople to build the next generation of their digital platforms and to improve their ability to continuously deliver quality systems.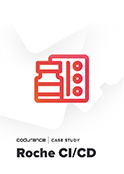 Find out how we helped Roche
Read Case Study